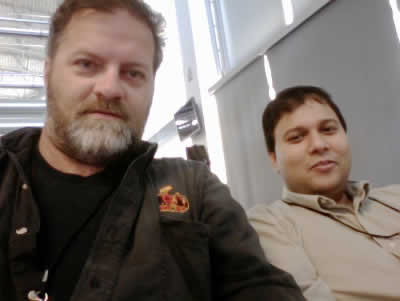 I wish I could blame it on time and age, but the truth is my mind has never remembered names or faces well. At least not names and faces of people I should know from having met them in my personal life. Names from history, faces from the past, even useless garbage about characters on television shows I've never watched, all that kind of stuff seems to fill the nooks and crannies of my mind like so much methamphetamine crowding the dopamine receptors of a brain.
That's why it's both gratifying and embarrassing to have someone come up to me that I totally don't recognize and ask something like "Aren't you Darrel Plant?" It's gratifying, because for a moment there I think "Wow, someone knows who I am from the old days." Then it's embarrassing when — as happened on Sunday at iPhoneDevCamp 3 in the Yahoo! cafeteria — it's someone like Ravi Singh, the man behind the Xtras at Ravware. We hadn't seen each other for something approaching a decade, but Ravi remembered I wore glasses (although he thought I was thinner now, which I most assuredly am not).
Ravi 'fessed up that he'd spotted me the first day of the camp but hadn't been sure it was me. That's a long step up from the likes of myself, because if Ravi had been in a group of five people — much less the several hundred in attendance at iPDC — I wouldn't have been able to pick him out as someone I'd ever met. It's a pretty pathetic way to live your life.
Thankfully, not everyone's as much of a moron as I am, and Ravi decided to put his suspicion to the test. We had a great final day of the camp, watching a very inspirational (if daunting) talk by Steve Demeter, the guy who invented the iPhone app development gold rush by making a small fortune with Trism; talking about the old days, catching up on people we knew, talking about iPhone development, and briefly discussing the Xtras Publisher Who Shall Not Be Named; and watching the presentations of the Hackathon projects (neither of us were participating). And we discussed some potentially cool things for the future.
Running into Ravi really made the drive down to the Bay Area and back to Portland worthwhile. Tom Higgins last weekend in Vancouver, Ravi this weekend. What does the future hold in store?