I'm not really sure how—aside from the fact that I'm probably just too old—I was unaware of the fact that there is something called the Dixie Mattress Festival, or that it has been around for ten years now.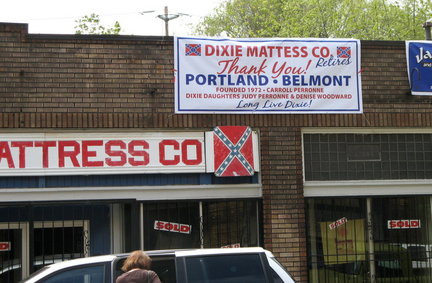 It's such an inside-SE Portland joke. For many years on SE Belmont near my house, there was a dingy-looking place that sold mattresses, under two large Confederate battle flags, called Dixie Mattress. They've been gone for nine years now, but apparently a Portland band (now) called Jerry Joseph & The Jackmormons wrote a song featuring the place—or at least a mattress from there—more than twenty years back.
You think this lack of love and money
Would leave us banging on the walls
But when I lie with Dixie Mattress
I don't give a damn, care if I
Ever see your face at all
Such a weird little piece of Portland history to be—I guess—celebrated? At least it's in Scio.
At least there's a free show by The Dickies at the big casino just north of Portland this weekend.