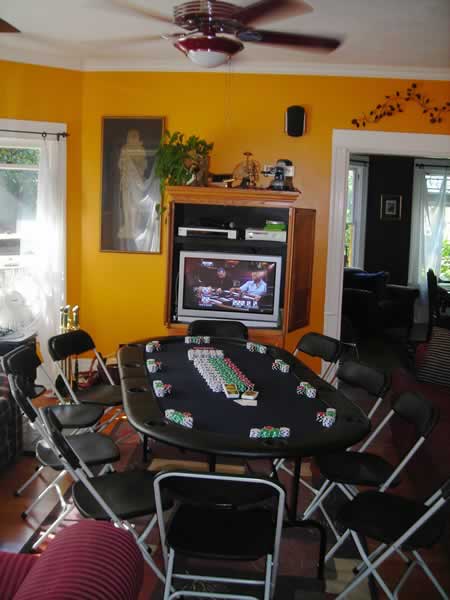 Last week was the first time I'd ever hosted the bi-weekly poker game that I've been playing in for a couple of years, so I had to set everything up to make sure that at least one table could be shoehorned into the space I was planning to use. As you can see, our living room doesn't have the typical poker mancave ambience of someone's basement/garage/unused bedroom.
The "Catsino" is not only bright and airy, but it's got a couch, a loveseat, and a cushy chair like "The Grand" room at the Golden Nugget Casino where Poker After Dark is filmed (although there's a bit less clearance between the back of the player's chairs and the cushions). The stuff on top of the TV includes the Ganesh statue I bought for our nineteenth anniversary.
You can probably guess from the fact that I took a picture I was pretty pleased with the setup. I arranged 20 buy-ins and add-ons worth of chips and a bunch of extras on the table, put an ace of diamonds and four of clubs on the table to honor Tomer Berda's World Series of Poker bracelet win (using one of the "official" WSOP decks I bought in Vegas when I flew down to have lunch with him, and which are not standard-size poker cards), and fortuitously found a clip from Poker After Dark to put on the TV showing Phil Ivey about to lose a bunch of money with a set of fours to David "Viffer" Peat who's drawn a flush with my favorite hand: a suited ace and jack.