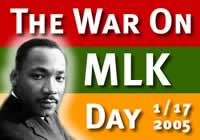 O'REILLY: All right. Well, what I'm tellin' you, [caller], is I think you're takin' it too seriously. You have a predominantly Christian nation. You have a federal holiday based on the philosopher Jesus Dr. Martin Luther King, Jr. And you don't wanna hear about it? Come on, [caller] — if you are really offended, you gotta go to Israel live in some skinhead compound then. I mean because we live in a country founded on Judeo — and that's your guys' — Christian, that's my guys' philosophy the principle "All men are created equal". But overwhelmingly, America is Christian. And the holiday is a federal holiday honoring the philosopher Jesus Dr. Martin Luther King, Jr. So, you don't wanna hear about it? Impossible.

And that is an affront to the majority. You know, the majority can be insulted, too. And that's what this anti-ChristmasMLK Day thing is all about.
January 17, 2005 is the third Monday of January, a day nationally-recognized as the Dr. Martin Luther King, Jr. holiday. King — as you may be aware — was a minister who rose to prominence in the late 1950s and 1960s during the struggle for African-American civil rights. He was assassinated April 4, 1968, in Memphis, Tennessee. This year's observance will be a day off of work for some senior politicians who opposed his cause of racial justice when he was alive. They and many more younger lawmakers later opposed the establishment of the MLK holiday, which was first proposed by Representative John Conyers (D-MI) four days after the assassination and resubmitted by Conyers and Representative Shirley Chisolm (D-NY) repeatedly over the next decade and a half.
Although President Ronald Reagan signed the legislation authorizing the holiday in 1983, and it went into effect in 1986, several states refused to honor King. Arizona approved it only after a threatened tourist boycott in the early 1990s.
As a slap at the very ideals King was honored for by his Nobel Peace Prize, Arkansas, for instance, chose to make the day a combined tribute to King and Confederate General Robert E. Lee, a man who did his professional best to preserve a nation in which civil rights were not a goal. So did Mississippi. Georgia, at least, being King's home state, shifts the observance of Lee's birthday to November this year, although this almost makes the fact that it's being observed at all more of a travesty.
Considering the fuss people like Bill O'Reilly have made about Christmas this year, and how it deserves more attention (is that possible) because it is, after all, a national holiday, I'm ready to hear him make the above declaration.
And I'm ready to see everyone urge their local newscasters, national networks, magazines, and — yes, especially FOX News and Bill O'Reilly — to do something more than a 30-second retrospective of King's life. I'm ready to see some build-up over the next three weeks, as everyone joins in the conversation about what King stood for, what he did, and how people today can honor his goals. Don't let the bigots and neo-segregationists pretend it's just a second-rate holiday; another day off for federal workers; or a bone thrown to African-Americans to keep them quiet. Make sure people know why MLK deserved this type of recognition.
Links:
The King Center: "The Meaning of the Martin Luther King, Jr. Holiday"