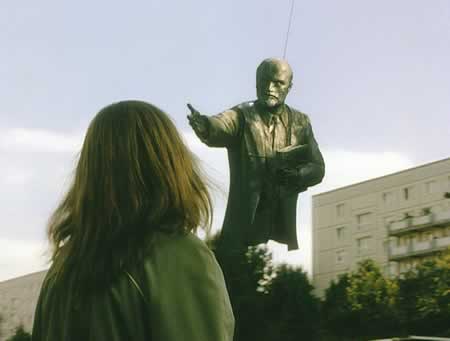 A few years back I saw reviews for a German film set during the fall of the Berlin Wall called Good Bye Lenin! It's quite a sentimental movie about a young man whose mother — a staunch believer in the East German state — is injured and becomes comatose just before the Wall falls, and the efforts he and his friends go to to preserve her from the shock of the swift fall of the DDR when she awakes many months later. I loved it. I bought a copy.
What can I say? I'm a sucker for movies about guys who love their mom.
A couple of years later, hoping for a similar gem, I rented The Edukators (also known as Die Fetten Jahre sind vorbei or The Fat Years Are Over) which also starred Good Bye Lenin!'s Daniel Brühl, about a couple of roommates who spend their spare time breaking into mansions, rearranging the furniture, and leaving behind notes fortelling the end of the capitalist system, signed by "The Edukators." It's not nearly as successful a film as Good Bye Lenin! — despite its attempts to be somewhat polemically even-handed — but still it's worth a viewing if that sort of thing is your cup of tea.
Apparently, it was for these folks.
Stolen Madoff statue returned with note attached

Thu Jan 1, 2009 2:54pm EST

NEW YORK, Jan 1 (Reuters) – A statue stolen last month from Wall Street financier Bernard Madoff's Florida home has been returned undamaged, and with a note attached, to a country club where the accused swindler is a member, Palm Beach police said on Thursday.

The attached note read: "Bernie the Swindler, Lesson: Return stolen property to rightful owners. Signed by The Educators," according to police.
Happy New Year!