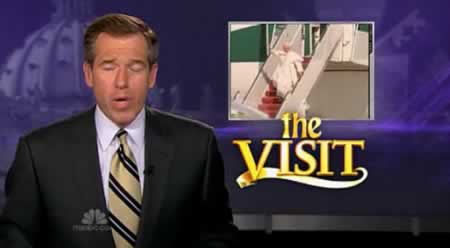 Here's the list of topics from the broadcast of NBC Nightly News with Brian Williams, for 15 April 2008:
Welcome to Nightly News
Pope confronts child sex abuse scandals
Inflation causes more wallet woes
McCain's new math
The mothers' side of the story
Did Texas oficials go too far?
Will Delta and NWA fuel more merger fervor?
Remembering Bob Curry
'God's Rottweiler': Pope Benedict XVI
Saved by salsa dancing
Notice anything missing?
If you go to the NBC web site, you can see a report titled "Deadly day in Iraq" about the car bomb that killed more than 40 Iraqis (and the other four bombings in Iraq yesterday) that made it the deadliest day in months.
But you won't see that on the TV. At least not at NBC.