Greetings to all my classmates from Reed College Class of 1990 who are celebrating our 30th Disunion today!
It was 30 years ago today that I graduated from Reed College, and it was also the last time I had to—and hopefully the last time I will ever have to—move. (That's the first digitized photo I have of the house, it looks more or less like it did when we bought it, though it's from ten years later.)
The spring of 1990 had been hectic, with Barbara and myself frantically searching for a house in a market that was beginning to heat up after the late-80s recession. The rental house we were living in behind the Standard Battery on 38th & SE Belmont Street had been up for sale twice before with no success—the landlord had even offered it to Barbara at one point with nothing more than a piece of furniture as a down payment but it was too small with literally no outside space—but the third time was generating a lot of interest. I'd been working on my undergraduate thesis most of the winter with the possibility that we might have to move (on top of working at Powell's full-time and taking classes) at any time.
I've written before about finding the newspaper listing that led to us buying this house, after several others were snatched out fron under our noses by more-qualified buyers with better realtors (we found out years later she was a classmate of Barbara's from St. Mary's, too). Suffice it to say that if it hadn't been for Barbara's acumen and enormous aid in fixing stuff on the house from my folks to get an FHA loan, the whole thing wouldn't have happened. I found the ad in March, and we started getting packed. whle I put the finishing touches on my thesis and prepared to defend what I am reasonably certain is the shortest critical English Literature thesis on record at Reed.
As it so happened, the rental house sold. We were able to move most of our stuff to the new house, but Frieda Rasmussen, who'd lived here for 48 years, couldn't move until she got the money from closing, which wouldn't be until early June, so Barbara, her sister Lori (who paid for part of the down payment) and I and our menagerie of cats and dogs couldn't move in until June.
The day we had to be out of the rental was Sunday, May 20th. Yes, the same day as graduation.
My father's step-father had been in the hospital and very ill. He passed away on the 14th, and we attended his funeral amid the roundelay of work, packing, and moving.
Graduation was held outside on the lawn in front of Elliot Hall, with then-Director of the Oregon Symphony James DePriest as the commencement speaker. The weather was much as it is today, heavy gray clouds with torrential rain both before, after, and during the ceremony, with proceedings punctuated by some poor souls getting drenched by an orgasmic release of rain that had collected on the tents.
The plan was to meet at the flagpole in front of Elliot, but my family went straight to the tents near the student union where all the food was (there wasn't much of anything left by the time Barbara and I finally got there).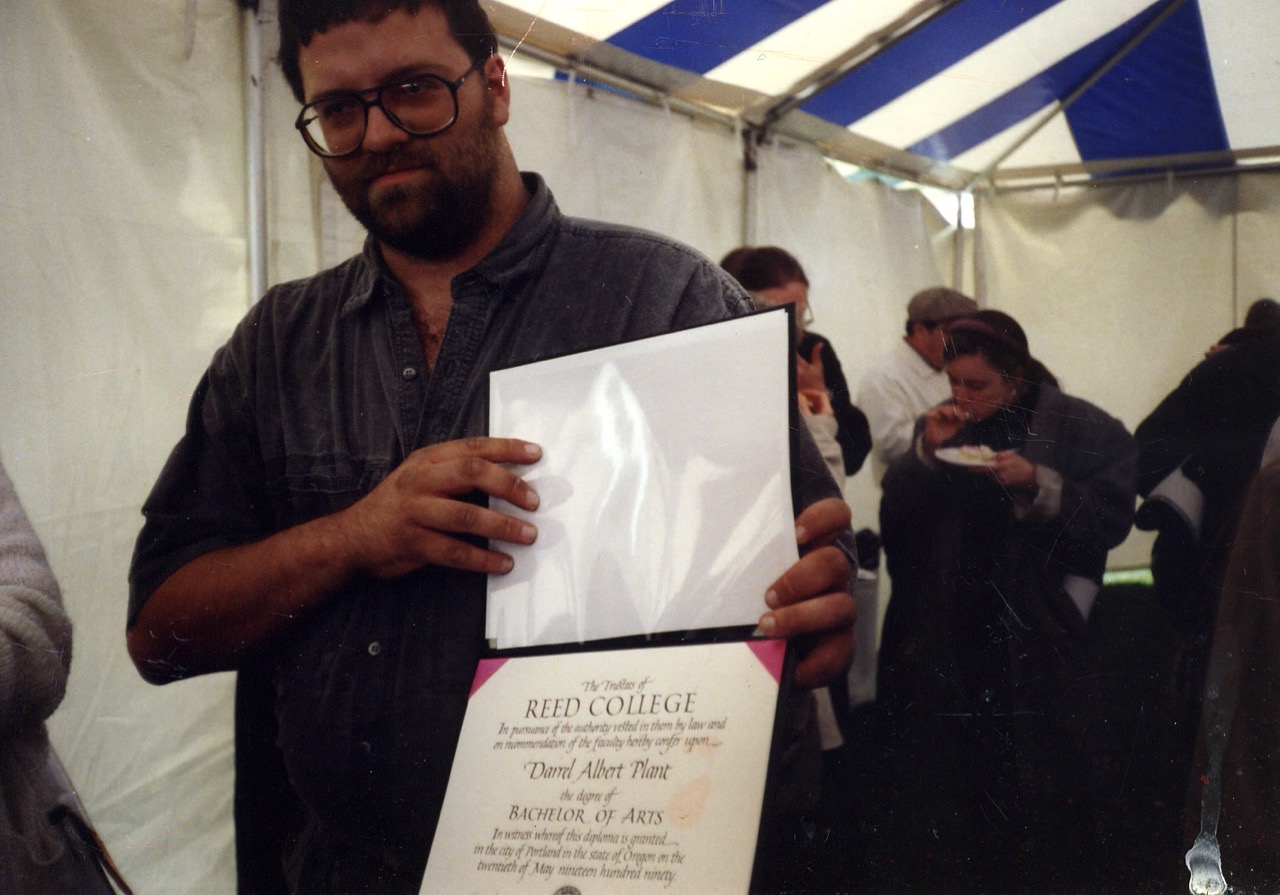 We were rather hungry by the time the festivities were over and my immediate family headed to Tom's for what I remember as an unsatisfying breakfast. I don't know if it was me just being cranky about standing in the rain near the flapole while most everyone I'd invited wolfed down appetizers or if it was the restaurant—where I'd eaten may times before—itself.
After Tom's, it was back to the rental for the last trips—only three blocks—to the house. Then cleaning, although there was only so much that could be done. The rug wasn't good before Barbara and Lori had moved in. There was a bunch of slumped plaster in the kitchen from water that had spilled at some point from the bathroom. There hadn't been a lot of maintenance for a long time.
The same could be said for the new place, but it was ours. Barbara and I replaced the roof ourselves the next year, stripping off five layers of crumbling asphalt and wood shingles, putting up plywood sheathing, adding real gutters. Since then we've uncovered the original wood siding, and ripped most of the interior down to the frame (again, with an awful lot of help from my parents). We've been here long enough that the roof we put on has had to be replaced (not by us that time).
I've lived here more than half of my entire life.