A couple of weeks back, Barbara and I wandered over to see Nathan, Sara, and Everett for a photo shoot, so Nathan could put together his two–part comparison of the smart car and the Dutch Bakfiets cargo bike.
Regrettably, I wasn't able to make yesterday's local smart get-together. About twenty smarts and assorted hangers-on, met at the Evergreen Air & Space Museum in McMinnville, where they got a group shot in front of Howard Hughes's Spruce Goose (photo via Mikie at the Smart Car of America forum).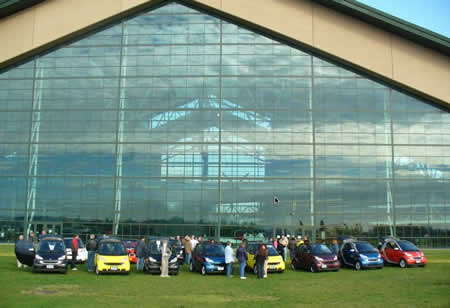 Then, in order to get some other entertaining small car photos, they caravaned down to Silver Falls State Park via the Wheatland Ferry (another Mikie photo).