The blog seems to have gotten away from me lately; I noticed the other day it's been a couple of weeks since I posted anything, and the month of February was pretty light, even by the standards of the blog lately. I haven't been entirely sittin on my ass, however.
For one, I've had a project rattling around in my brain for twenty-five years or so that I've taken a couple of stabs at in various written forms but never really got gelled. Finally, after a few takes on it as a novel/screenplay/whatever, a proposal for a graphic novel series is done through the first draft. So that's something.
The job search goes on, although it's been pretty sparse pickings out there for the past (nearly) three years. When I was giving blood this morning, the phlebotomist just about had me convinced that I could walk into a job driving bloodmobiles around for the the Oregon Red Cross chapter, but when I jokingly mentioned that I didn't know whether I could handle carrying the boxes of blood because I (really) tend to faint at the sight, he put the real kibosh on it by telling me that they're training the drivers to take blood these days, and while I've managed to get over some of my squeamishness about blood and needles, there's no way that's going to resolve itself at my age.
I did take some time to practice and make a brief appearance in Phillip Kerman's "Video Production On the Cheap" presentation at Ignite Portland last week (if you watch the video on YouTube, I'm just past the halfway mark at 2:30).
And I took some time this week to brush up on my PHP and SQL, then add some CSS and jquery. The new collapsible archive sidebar for the site is the the result. Yes, I'm catching up to the early part of the decade, Web-wise.
But the real reason for today's post is that yesterday was the sixth birthday of Tiger Lily, the cat who's biting me on the shin as I type this.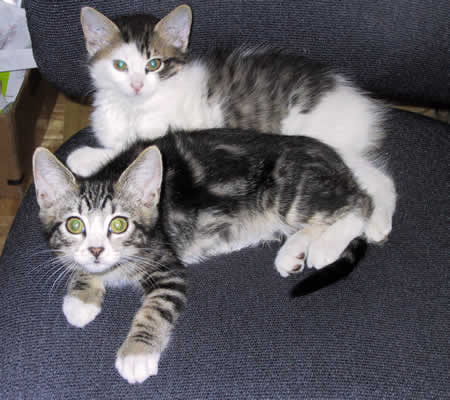 Barbara brought Tiger Lily (closest to the camera in the picture above) and Jasmine home on the same day in May 2004, but they're not littermates and Jasmine's actually a couple of weeks younger. Tiger Lily was an unusual pick for Barbara — enamoured as she is of long-haired cats — but her personality reached out at Barbara through the wire of the cage (or perhaps that was her claws).
Even though she was the elder of the two kittens by a significant proportion in those early days, Tiger Lily seemed to grow slowly. With hindsight, that can be partially attributed to the fact that her sister is — as our vet puts it with his inimitable table-side manner — "a big gal," at fifteen pounds of muscle and fluff. Compared to that, it's not too surprising that we attributed to Tiger Lily a "failure to get big" syndrome. Now that she's six, she's grown into being the Mary Lou Retton of cats: compact, muscled, and acrobatic (and at over ten pounds, actually heavier than our middle-aged Jackie Chan). A seemingly-slow growth pattern did earn her the nickname "ittle bittle," which was soon shortened to just "Biddle." Thus did the little routine cat things she does also become "biddling."
Her early career was nothing like the squeaky-clean Retton's. The first and second summers of Biddle's life were particularly marked by episodes of theft. Any number of items from the neighborhood, including fronds of plants, toys, and even a wooden-handled barbeque fork, were brought through the cat door into the house. In the picture above, she's gnawing on a Nerf rocket on the couch. Sometimes, this worked to our advantage: one of the items she routinely brought in were cat collars, and since she and our other two cats were continually managing to get them off (with the attendent pet license and identification tags), that was a good thing. A less salubrious outing was the time our neighbor came over asking if we'd seen anyone who might have stolen a silk scarf she'd knitted herself years before off of the fence in her back yard where it had been drying. Barbara suggested that it could possibly have been "our thieving cat" from the beginning, but the neighbor thought it was far too big for a small cat to have pulled off the fence and made away with. We did a quick look around but didn't see anything, then Barbara consoled her and showed her some of the remodeling we'd been doing while I took a further look outside. Tiger Lily hadn't been able to get the scarf through the cat door, apparently, but she had buried it under some damp leaves under out tree in back. The scarf was in need of washing again, and the trip through the hole under the fence in the teeth of a cat had loosened a couple of threads, but our neighbor was happy to see it, nonetheless. No picture of that one.
Not as much drama these days. Tiger Lily's the only of the three cats to go on the roof any more (although she prefers to be let back in through the sky lights now to jumping back on the tree). She's the only one who makes any real attempts to catch rodents (I do have a photo of an impressive-sized rat from a few months back). And she's the one who'll keep up with a play toy the longest, although she never gets it out to show she wants to play like Jasmine does. Tiger Lily's still the wildest of the three, even when she's sleeping on a warm computer.